Indeed Christmas in the Philippines starts in September, a generous Santa came today bringing in good cheer and a box of Revlon MoistureStay Lipcolor. This is supposed to be five but for some reasons the fifth tube went out of the box and I can't find it anymore.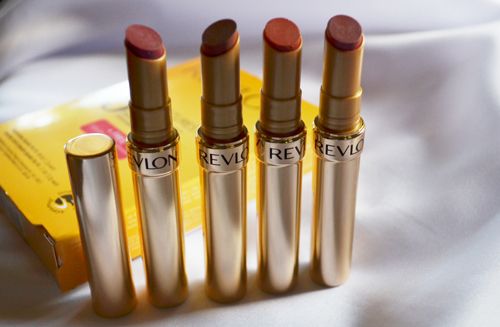 Anway, this edition of Revlon MoistureStay Lipcolor that comes in 5 nude shade is only available in Duty Free Shops, I have no idea why but I have a clear idea that I'm happy I got a Revlon lippy today for free.

The other four shades and another free ColorStay lipstick that comes with this box were shared to gorgeous freeloaders anxiously waiting, hahaha. First come with serve and what was left for me was this 06 Toffee Shade, better than nothing at all, I should have run faster, lol.

I love how this baby is packed, so light and slender you can easily slip it in your purse without any hassle at all, the gold sleek casing made it even look so refined.
And this is the swatch, its deeply pigmented and that even with a light dab it can shade your lips true to its color. It's e
nriched with vitamin C purposely to protect and hydrate, leaving your lips soft and moisturized all day. It's mentholated so it gives your luscious lips that cool and tingling feeling, it disappears shortly after though.
So there, one happy earthling here, thank you Ayen for this early Christmas gift.