My shy Valentine's date
It is official we're finally breathing love in the air. The month of love has arrived. I know you're all feeling frivolous, anxious in fact, where the love of your life's going take you this Valentine's Day.
But more than the signature restaurants and hotels, the luxurious spa, the beautiful bouquet of flowers and gifts, the gorgeous get-up and make-up that we ladies are dying to anticipate, we shouldn't forget one important thing to bring on that unforgettable night. I know the pleasantness of the night wouldn't end without saying 'I love yous' and 'I like yous' and we don't want to turn off our partners with our not so good breaths, right? This night is supposed to be perfect in every way, and guess what? I just have a perfect idea not to spoil it.
Your love month's ultimate must have – SWISH MOUTHWASH!
I've been a long time user of Swish Mouthwash and it hasn't failed me since. Swish Mouthwash has five awesome variants – They have the Arctic Chill, the Peppermint Fresh and three variants that I'm going to share my experience using it with you are, Icy Choco Mint, Mangosteen Mint and the Cinnamon Blast.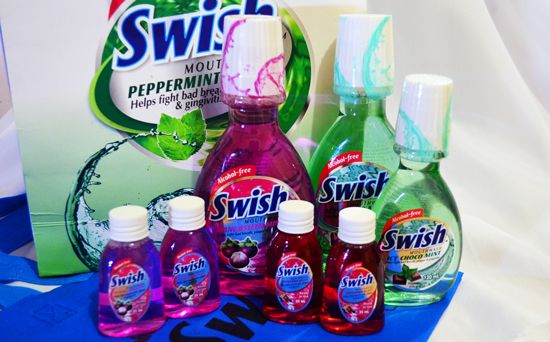 Swish Mouthwash: Icy Choco Mint
If you love deep mentholated zing in your mouthwash, this variant is for you. Gargling it a little longer will let you feel the hint of chocolate in your mouth. The balance of sweet and menthol sensation gives you an after feel of sweet-smelling and minty, fresh breath.
This is my husband's and my eldest son's morning ritual staple, sort of can't leave the house without.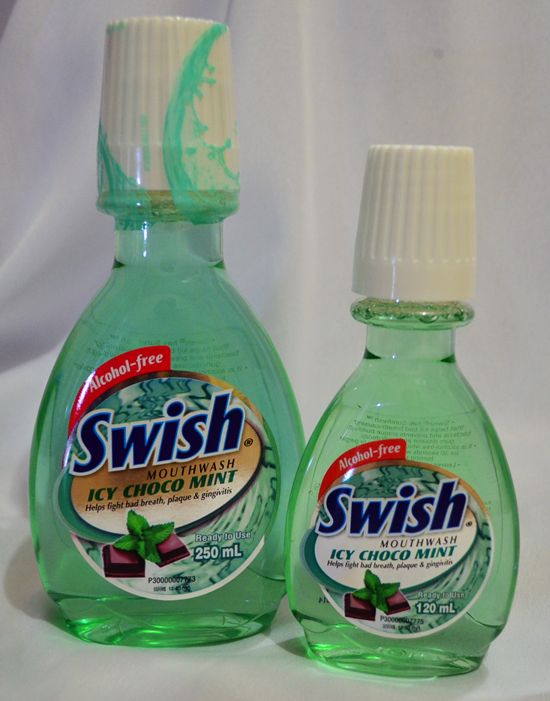 Swish Mouthwash: Icy Choco Mint
Swish Mouthwash: Mangosteen Mint
Mangosteen, a very common fruit here in Davao next to Durian. Its taste has this delicate sharpness reminiscent of mandarin oranges and light floral hints of lychee, peach and strawberry. If these are all bottled up together you get a good zest of vibrant and fruity tang. Then packed in more light mint in it, you get a mouth wash in fresh Mangosteen Mint.
Ladies, you'll love this variant, the menthol doesn't bite as much as the Icy Choco Mint, it's milder and no burning sensation in your mouth.
Swish Mouthwash: Mangosteen Mint
Swish Mouthwash: Cinnamon Blast
Cinnamon as a spice exudes a delicate floral aroma. It has a distinct sweetness and pepper-like heat which often we identify it on our food with. Swish has come up with a novel idea to pack this aromatics into a bottle, and the result – a sweet, spicy and minty after feel mouthwash. You'll love these ladies, I know not all of us can take a strong menthol after feel; this variant is as mild as the Mangosteen Mint.
All variants of Swish Mouthwash has a handy purse pack bottle, so whichever variant you decide to bring on your date, you can just easily slip it in your purse and you're good to go. Very fresh convenience.
Swish Mouthwash: Cinnamon Blast
All Swish products are Alcohol-free, so it's safe to use even for children 6 years and above. Swish also has SureFresh component that kills bad-breath causing bacteria. It also prevents from causing plaque build-up, gum diseases and tooth decay.

I really like these products from top cover to bottom. Hence, I HIGHLY RECOMMEND you pick this brand the next time you're standing in front of the mouthwash shelf thinking what's the best mouthwash to buy that's worth your money back.
Swish products are made from the following ingredients; Water, Glycerin, Propylene Glycol, Flavor, Poloxamer 407, Methylparaben Cetylpyridinium Chloride, Prophylparaben, Sucralose, Cl17200
Swish Mouthwash is another quality product of Innovitelle, Inc., a subsidiary of United Laboratories, Inc.
Get more fresh updates, like SWISH on Facebook at https://www.facebook.com/SwishPhilippines
(Disclaimer: I received these products for review and was not financially compensated for this post. All opinions are my own, based on my experience using these products. For questions and inquiry you can email me at vlyluga@gmail(dot)com)