Carlos Celdran tries proben, a street-side delicacy, and is amused
to find out that it is actually a chicken's proventriculus, hence the name.

Apo View Hotel recently launched a handy Davao City street guide; it's a customized city map that invites visitors to set-off a Davao foot adventure with Apo View Hotel as their starting point. The map contains practical insider information a tourist would need to navigate around important cultural and historical attractions in downtown Davao. And to test the 'walkability' of the map, Apo View Hotel invited the celebrated Manila tour expert and cultural activist Carlos Celdran to do the road tour called 'Carlos Celdran does Davao'.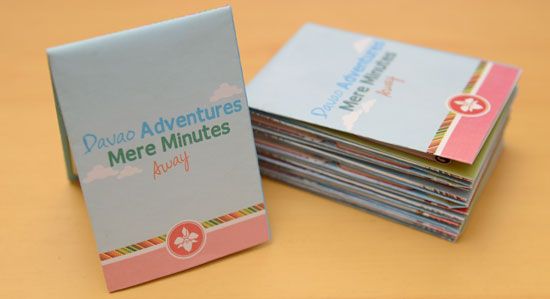 Guests at Apo View Hotel are given complimentary copies of this map

After two days on foot following the map, feeling and seeing the heart of Davao City, he revealed that 'it's about time Davao City should push pedestrian tourism and promote the culture of walking.' With Davao City's remarkable accomplishments, such as the most livable city in Asia, the country's cleanest and greenest city, best police office in the country, the smoking ban in public spaces, the banning of videoke shortly before midnight and the recently implemented speed limit in the city – these factors made Davao City all the more very ready for pedestrianization.
There has to be little improvements to be done though. Correspondingly, upgrading of parks, constructing more generously-spaced sidewalks, one can tell it's a nice city through its sidewalks you know. More street lamps and supplementary improvements along Roxas Avenue that would include bike lanes and bike racks, park benches, and what-I-hope would be included - artists freedom wall, a wishing wall, love locks lane like the ones in Prague in which according to Mr. Celdran, a very potential space to be a pedestrianized boulevard.

He added that he has no doubts it can be done in this city as it only takes political will to do it. And if there's one city that has it, it is Davao City!
After all long day of walking, Carlos Celdran indulges
in a quick foot massage at Osmena Park under the shade of the trees.
Chris Pamintuan, Apo View Hotel's CEO hoped that this project will revitalized the downtown area and will bring back the old Davao's history and culture.
I personally support this project.Walking culture offers social interaction in public spaces and freer public participation, a kind of vanishing exchange our society is challenged as people are becoming more and more attached to online social interaction. It doesn't need sound Science to prove that walking provides numerous benefits. One for certain is that the more you walk faster, the more you live longer.
Guests at Apo View Hotel are given complimentary copies of the map. For hotel bookings and inquiry visit www.apoview.com or call telephone number (+63 82 2216430)

Salute to Apo View Hotel in its efforts to MAKE DAVAO CITY, A WALKABLE CITY.