Apo View Hotel, Davao City's home grown pride being the first hotel in the city and the second longest running hotel in the Philippines is celebrating its 65 years in the business on March 23, 2013. And to mark this milestone, Apo View Hotel will host a thanksgiving party for its industry partners, valued clients and friends. Guests will be treated to a generous spread of food and drink which will be prepared by the Hotel's Food and Beverage team led by Chef Pablito Villanda.
Home grown celebrity performers like Jinky Vidal of Freestyle, songwriter and singer Jay Durias of Southborder, Jazz artist Angel Balbin will take center stage to entertain the guests as they pay homage to a place where they first started.
Mr. Chris Pamintuan, Apo View Hotel's President and CEO said that the event will also honor and recognize employees who have been loyal and devoted their lives to serving the hotel and its equally loyal and valued guests.
Apo View Hotel is a family owned hotel which was founded in 1948. It started as a modest 15-room lodging house which catered guests coming in mostly from Manila finding their way around the city, who were trying to rebuild their lives shortly after World War II. Today, Apo View Hotel has grown into a first rate facility with luxurious 150 rooms, two dining areas, a bar, a casino and has deluxe facilities for varied conventions and banquet facilities.
Apo View Hotel was recognized by the Department of Tourism as a Pioneer Hotel in 1999 and received various awards like Datu Bago Award in 1992, International Recognition for Efficiency and International Gold Star for Quality in Switzerland in the same year.
Today, more than ever, Apo View Hotel under its new and young CEO Chris Pamintuan, backed by its experienced and courteous staff continue to offer its guests and valued clients this assurance of exceptional service, and distinctly Davao experience whenever you come and make Apo View Hotel your home while in the city.
Mr. Chris Pamintuan, Apo View Hotel's President and CEO
shares to bloggers the evolution of the hotel and briefs us of what's in store with the upcoming 65th anniversary of the hotel.
When at the Apo View Hotel, don't miss to try out their buffet at the Entree, it's one of the best food spread in the city ...
Potato Salad at Apo View Hotel's Entree
Banana Blossom Salad at Apo View Hotel's Entree
Carrot Cake at Apo View Hotel's Entree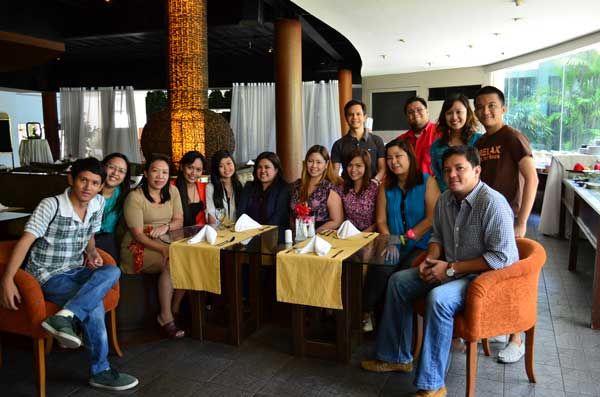 Mr. Chris Pamintuan, Apo View Hotel's President and CEO [seated extreme right]
with the awesome Davao Bloggers