I'd like to begin by acknowledging the genius behind this wet wipes innovation, since the time this product went selling out in the market it has been my grocery staple like I can't push the day without a pack of it tucked in my purse. Unlike the dry type, the wet ones are more versatile, gentler and are very friendly to the skin, especially for women who have unique needs when it comes to their intimate area.
pH Care® Feminine Wipes is a product innovation by Innovitelle, Inc. This company really understands the needs of every woman as this wipes is especially formulated and packed for the active lifestyled women of today. pH Care® feminine wipes has a mild formulation of ActiveCool® and steady moisture that guarantee to clean the feminine area gently - leaving it clean and a feeling of cool wind freshness every time.
I should admit I have used a number of wet tissue brands there are in the market today; some are too wet that the liquid would spill out of the pack and messes up some of the valuables in my purse – my cellphone being the last. Some maybe just right but the material is too sheer that it smears up my hands when I go. pH Care® feminine wipes is formulated so perfectly – not too dry but wet enough to clean the gentle area, the material is silky and dense enough not to blotch your hands when you dab your private part.

I also love that pH Care® Feminine Wipes is conveniently and lightly packed as I can easily slip it in my bag when I travel, tuck it in my clutch when there's a party or for a mom of three like me - can double as kids' mess rescue without having to carry bulky stuff in my bag.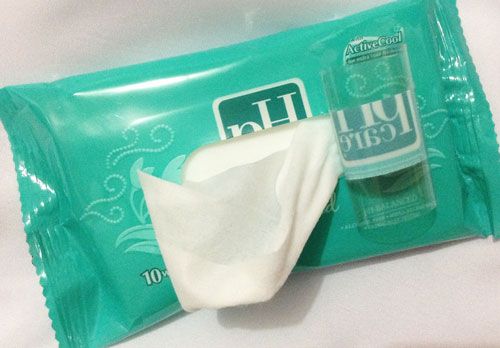 pH Care® Feminine Wipes come in variety of scents that'll give you a unique feeling each time;
pH Care® Cool Wind: Feel the cool, clean freshness with breezy action from ActiveCool®.
pH Care® Fresh Blossoms: Experience soothing freshness with a blend of lilies and lush greens.
pH Care® Happy Daisies: Wake up to happy freshness with a zesty blend of citrus and floral scents. pH Care® Fragrance Free: Take comfort in mild, gentle freshness with a gentle formula for sensitive skin
pH Care® Shower Splash: Enjoy bagong-ligo freshness with a whiff of fresh green citrus scent
pH Care® Passionate Bloom: Bloom with the freshness of romance with essences of rose and floral blossoms
So the next time you're on the shelf scouting for feminine wipes, take it from Woman Elan Vital – pick pH Care® Feminine Wipes you'll definitely have a great day with it.