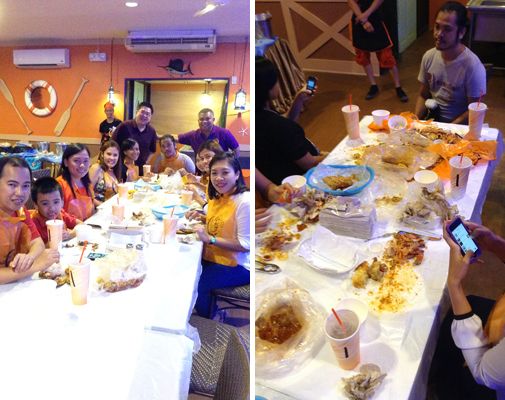 Should we be proud of our messy table? Yes, because we surely had enjoyed our hot, spicy and saucy meal, it was so good. I will be back.
The ever-changing food scene in Davao City has brought in so many food variations that were welcomed with so much eagerness and excitement by discerning Davaoeno palate, the latest addition – Blue Post Boiling Crabs and Shrimps.
Blue Post is not new to Davao, it used to be a famous casual bar with good food and homey billiards where friends can come around to eat and wind down after the day's work. However, with so many restaurants budding around, Blue Post relaunches itself with an innovative concept patterned after the famous Boiling Crab in the US in which diners would line up, waiting patiently for their seafood order that's being placed in a boiling bag and scrapheap on top of the dining table. Using their bare hands, diners would relish and dig in the bag for their seafood cooked with special sauce.
The owners, Anthony and Jen Ang having seen diners enjoy the 'messy-finger licking' meal thought it would be a perfect new dining experience they can offer Davaoenos.
Soon after, we had a chance to experience this 'messy-finger licking' seafood meal and was a bit in wonder to see tables lined with glassine papers with no plates, spoons and forks on top of it at all. Evidently, this type of casual dining eliminates the formality of using spoons and forks which apparently; the way crabs and shrimps should be eaten, shouldn't it?
They offer a variety in their menu but crabs, mussels and shrimps cooked the way your sauce you wanted it to be are their so-called banner meal spread.
And this is how it will go. When you finally selected which seafood to eat, choices of crab, mussels, shrimp or mix, you'll be asked how you'd prefer it cooked, fried or boiled, either way, you then have to choose how your Cajun sauce would fare – regular, mild or screaming spicy hot. I'm not wired for piquant flavors so our table decided to go for mild spiciness.
After a few minutes our order came in steaming food grade boiling bag and was dumped on top of our table, and since there's no plate, spoons and fork, you get to have your hands ready at the wash area and be ready for the boodle-fight sort of meal. And oh, please don't forget to get yourself a crab bib, the wait staff would be happy to have it looped for you, love that food accessory, it come so useful not to mess your top up.
We had;
Fried Garlic Crab
[you can also have this boiled in Cajun sauce, regular, mild or extra spicy.]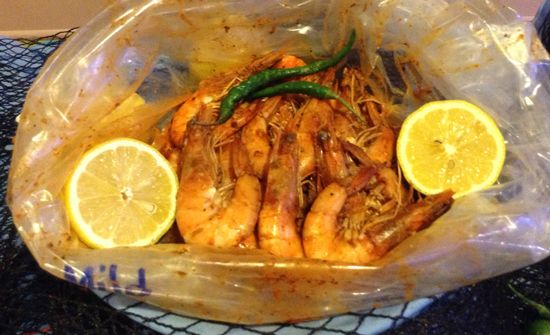 Boiled shrimp in Cajun sauce
[you can opt for an add-on of corn in a cob, potatoes or sausages]
Hot and Spicy Mussels with succulent and plump meat.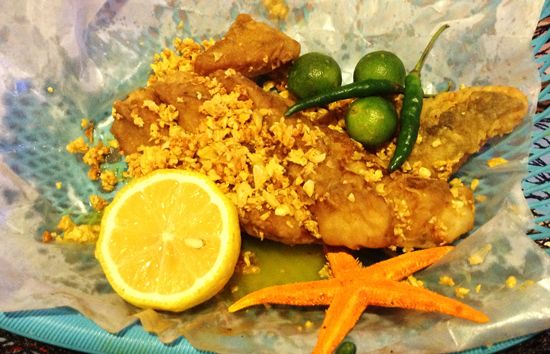 Garlic Fried Garlic Tuna is one on the list you shouldn't miss for the world. It's fried spot-on giving the tuna meat a perfect texture of crispiness on the outside yet juicy and flavorful on the inside. It's served with generous fried garlic on top making it the best fried tuna I've ever had.
They also have garlic chicken wings. If you're bringing kids with you, they won't normally eat the crabs in spicy sauce, a good option then.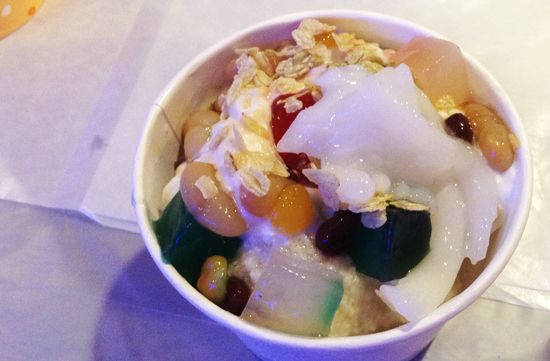 Halo-halo for dessert. I was looking for the crashed ice, they say it's there I can't see it, but I can savor it. The impeccable combination of the conventional halo-halo fixings and the right amount of cream they put in it, make it melt in your mouth to perfection. So good!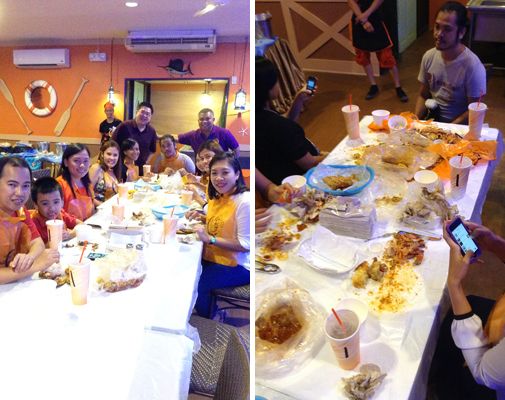 Should we be proud of our messy table? Yes, because we surely had enjoyed our hot, spicy and saucy meal, it was so good. I will be back.
Blue Post Boiling Crabs and Shrimps will open on December 8, 2013; it will be a perfect venue for your family, friends and office Christmas blow-out. If you love crabs and shrimps, having it cooked with extra zest and twists, would definitely let you love it more.
I highly recommended it!
BLUE POST BOILING CRABS & SHRIMPS
J.P. Laurel Ave. Bajada, Davao City
Tel. Nos. (082) 221.83.60
Email Add: blueposts@aagroup.com.ph