Our lips have the thinnest epidermis compared to any other skin parts of our body. Hence, it is vulnerable to any temperature changes, hot or cold, and parched faster than any other skin parts too. They don't have sebaceous glands, the ones that are responsible to naturally moisturize our skin – exactly the idea why we often find ourselves using our saliva to moisten it.
But this is the least of 21st century beauty problem as we have came up with highly efficient and convenient topical creams we call lip balm, whose job is to do a perfectly supple, kissable and moisturized lips for us.
Celeteque DermoScience+ SUN CARE Soothing Lip Balm is one of the wonders of beauty Science these days. It contains UVA/UVB that works to prevent UV radiation from damaging and rapidly cause aging around the lip area. For many women who have problems of darkened lips caused by previous smoking, this product contains Mulberry Extract that helps lighten the lips.
I like the concept of how a small box contained all the basic information a consumer like me needs to know
.
The list of ingredients is legibly listed. I read them, though often I don't understand and have a hard time pronouncing them, lol. It also has the manufacturers name; it's another quality and reliable product of Innovitelle, Inc.
For cream type products like this, this piece of information is very important to me – when this pot was made and when will I possibly discard or replace it? This is 5 stars for me. By my feel of how good this product is, this pot won't last me 'till expiry date.
I just dislike the idea though that this is packed in a pot-type container as its kind of unhygienic for me. It's something I think the makers should consider as I really prefer the tube or the twist-up type of lip balms. Well, obviously, all in the name of convenience and believe me, they're economical.
I like the mild scent. The cream is so light and glides smoothly when I apply it with my finger. It's also not too greasy and not too heavy, like you're putting another layer of skin atop your lips. And as a matter of personal beauty regimen, I like my lipstick undercoated with lip balm – this product works very well with my current lipstick brand.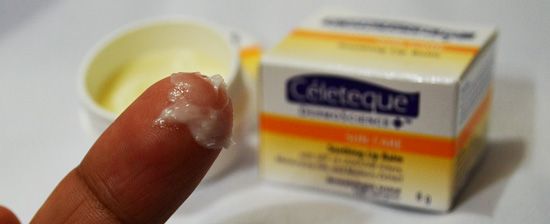 So, if you're thinking of replacing your lip balm brand right now, I RECOMMEND YOU PICK CELETEQUE DERMOSCIENCE+ SUN CARE SOOTHING LIP BALM and try it to see the difference. This product is dermatologically tested and is hypo-allergenic so it's safe for all types and shapes :) of lips. CELETEQUE DERMOSCIENCE+ SUN CARE SOOTHING LIP BALM is conveniently available in all leading drugstores and beauty sections of your favorite grocery stores nationwide.
Get the latest of your favorite Unilab products, like them on Facebook at https://www.facebook.com/Unilab
And if you've tried it, would be much honored if you can come back and share your story with me at the comment section below. Thank you so much ladies for dropping by.