One of the clear indications that summer has begun on this side of the world is that fruits of summer are ripening all at the same time. I guess its nature's natural way to propagate themselves and bring on new seeds before the rainy season. One of the summer fruit symbols we all know are watermelons, look around you and you'll be rolled over dead by these sweeties, they're all over and they sell cheap when it's at its peakest. But there is really one fruit that to me, invoke warm images of summer and my childhood – the Sineguelas.
According to my reads, Sineguelas or Spanish Plum (Spondias purpurea) were brought to the Philippines by the Spaniards, they're a native cultivar to Mexico and they thrive perfectly well in warm climates, hence, they're up lining streets in packs during this hot time of the year.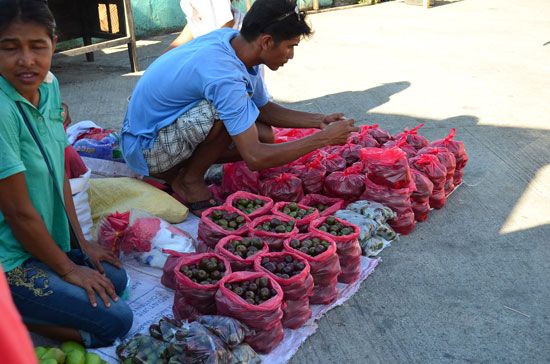 Some fruits are as big as the foot thumb, some much less. They're light green when they're still young and turn burgundyish to deep shade of it when they're ripe. I like eating them when their meat is still firm as they're juicy and taste slightly acerbic. The fruit becomes too mushy when they're too ripe especially when the sloppy meat covers the hard seed. I don't like it that way, kind of slimy to eat. Folks in Siquijor Island scrape the Sineguelas bark as a mix in to their 'kinilaw'. It removes the fishy odor of the fish and adds a hint of 'aplud' taste to the kinilaw. So perfect with 'bahaw'.
The last time I check, a kilo is P45. This will definitely go down when supply shoots up as summer peaks.