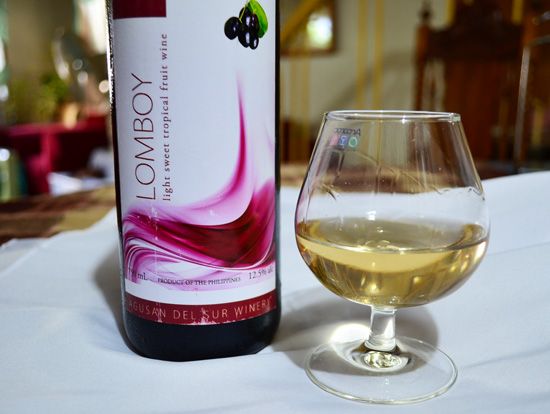 I found this wine by accident. I was on my out of Davao City Engineer's Office the other day when I saw few make-shift stalls lined at one corner of Rizal Park selling veggies and fruits. The fresh produce kiosks were organized by Department of Agriculture in line with the celebration of Farmers and Fisherfolk's month. I thought I should drop by and buy banana. And then, I was called by a lady asking me to free-taste their wine. Well, who doesn't like free stuff these days, so I paid regard. The next thing I knew, I'm walking home clutching a bottle of this Lomboy wine.
Lomboy or Duhat (Syzygium cumini) is by my memory one of the summer fruit symbols of my childhood. If you grow up in the province and have known a settled Lomboy tree around, you'll know that it's this time of the year too where their berries get full purple and is perfectly right for picking, salt or sugar shaking and get your tongue completely plumed. Sadly, life in the city is so often devoid of this laid back leisure, hence, one can just reminisce. But I think I have just another way of reliving that experience, that is to get into the spirit of the fruit itself.
I'm quiet abreast with the growing industry of local winery using tropical fruits, they're often exhibited in fairs and featured on TV. But using Lomboy to make one is kind of evolved innovation for me, well, nothing really novel as Lomboys or Duhats are berries packed with acid aplenty, so there's always this potential in the offing it could land in a bottle in one of these fortunate days. And I know it's just a matter of who will do it.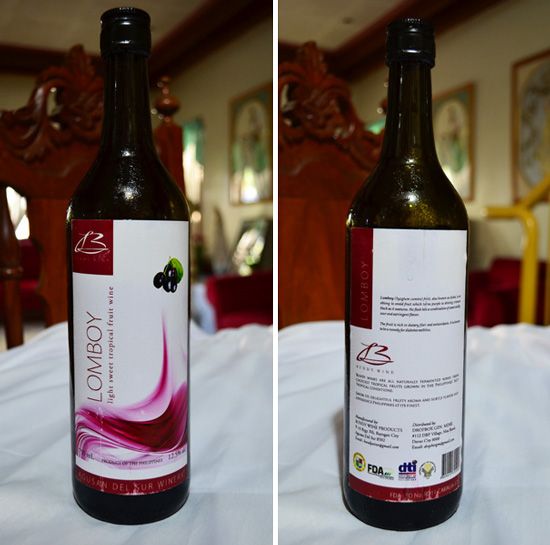 Bundy Wines are high-filled in 750ml screw-capped bottle with 12.5% alc.
Well, here it is. Bundy Wines did it and now has Lomboy White wine ready for pouring.
This particular bottle has liquid content with limpid and crystalline like appearance, just the way good wines should be. The natural light won't deceive you when testing clarity and this pass the test for me. Judging from the looks of it, it's clearly impressive - bright, shiny and reflective. It has a yellow/gold shade in which often associated with sweeter table wines.
It has light, acetic aroma and ironically, I can't smell the Lomboy but the total fruity smell that is predominantly extant in it. It's light bodied and most definitely sweet. It washes off food residue good leaving my palate clean. It has 12.5% alcohol content, a perfect company for just chilling out and personally, love it paired with cheesecakes.
If you're looking for good local wine alternative and you want it easy and sweet with a light alcohol kick in it, you should try a bottle or two of this fruit wine. It's brisk, mellow, sweet and unexacting. I'll say a good wine for romance and some intelligent, early night veranda conversation.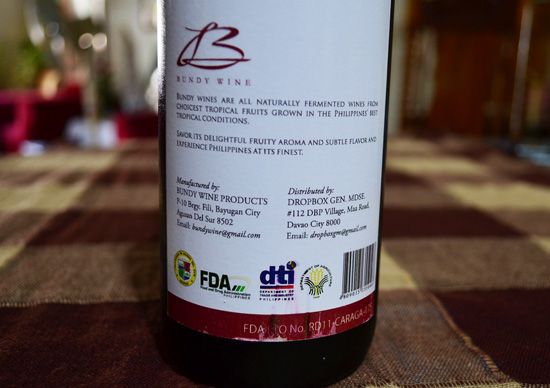 Bundy Wine has all these agencies approval to ensure quality of their products.
Bundy Wines are made from the freshest tropical fruits grown in the Philippines. It's naturally fermented and has seven exotic varieties - Mango, Macopa, Tambis, Guyabano, Jackfruit, Rambutan and Lomboy.
It's manufactured locally by Bundy Wine Products in Bayugan City, Agusan del Sur, Philippines. Bundy Wines are distributed by Dropbox Gen. Merchandise, #112 DBP Village, Maa Road, Davao City. You can email Bundy Wines at bundywine@gmail.com for inquiries.