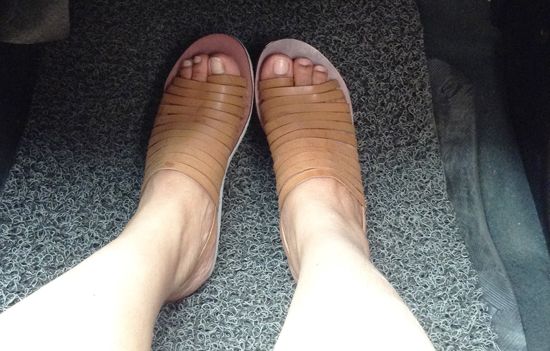 I really like thong-strapped sandals, they're sexy and airy on the feet, but I don't want to give people a wrong reason for their second look. I have to be honest, my feet look awful – they're 'gingery' (if that's the word) yeah some people are born with it, lol.
Glad there are shoe remedies these days where I can hide it. Shoe designers might have heard what I've been praying for so long but sometimes you just have to be patient in finding them.
And one fine day, I spotted one.
It's designed to wrap up my feet with still plenty of room to breathe in. The leather straps are glued altogether in the middle for easy slipping. But I re-glued it after two days of use, the straps parted from the leather strip that hold them together underneath, but after the DIY session, it went just fine.
The top sole is non-slip and so with the white bottom sole. They're the best pair to grace your car pedals, they're non-slip and they're light-weight. Easy and cool on the feet.
They come in two colors, the black and this earth shade. I'm not adventurous when it comes to shoe colors, I always go for neutrals, hence my choice. I usually give three to four months life to casual shoes I use daily, I hope this will live up to my expectation. You have 'gingery' feet too? It's available at your nearest Primadonna outlet. Try one today, you might like it. I did like it. A lot.
Live on, more shoes up ahead!
So what's your shoe find these days ladies, any style that interests you most? Would love to hear it, you can share it at the comments below. :)