I recently had a chance to attend another Human Nature's Magalogue turnover at their concept store at Plaza del Carmen in Obrero here in Davao. One of the highlighted products during the event was this Human Nature Perfect Glow Mineral Blush. I'm not really a make-up junkie but I buy and use blushes from time to time and I won't miss this for the world trying Human Nature's Perfect Glow Mineral Blush.
It comes in deep purple plastic, sleek casing, complete with mirror and a small natural brush. This mineral blush line comes in two shades, Pink Bloom and Sun-kissed. For this review, I'm using the latter - Sun-kissed that's warm-toned in coral matte pink. Perfect Glow Mineral Blush is a pure blend of Vitamin E and preservative-free mineral pigments. It contains no harmful chemicals that can cause irritation and my most-feared, break-out. It contains 'only the good' that enhances every woman's beauty to look healthy and exudes natural glow.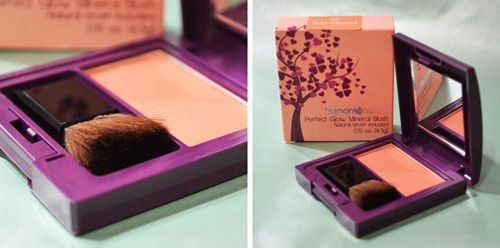 Compared to its circular-contained predecessors that's 3.5g, this square-contained is a lot bigger at 4.3 g. it also follows a price upgrade of P295.00.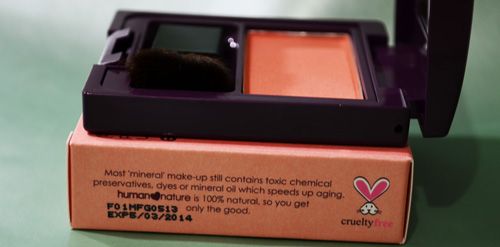 I used it for the first time when I attended an evening event, I was in a rush at that time, the brush can pick-up a lot of color though but since it's kind of small and flimsy I ended up using my kabuki so I can finish my ritual on time.
I love the matte finish; I have an oily skin so this fits perfectly for me. I also love the idea that the color formulation is buildable, you can start with a light shade then build it depending on the occasion you're heading and the mood you're wearing.
On a casual day, Perfect Glow Mineral Blush can definitely make your cheeks look like you're out there kissed by the sun.
I'm wearing Perfect Glow Mineral Blush Sun-Kissed
In 5 circular strokes
What I do not like?
The brush. It's small and flimsy. [But if you're always on the go and does not want extras on your bag, it'll perfectly do]
What I like?
It has a dainty packaging, the box color and the print is so picture perfect
Complete compact with mirror and brush
Better color pay-off (If I may borrow those lines)
Contains no harmful, toxic chemicals, dyes or mineral oils and not tested on animals
Matte finish
Buildable color formulation
Will I Recommend?
Yes. For those who are looking for affordable natural mineral blushes, Human Nature has these for you.
Will I buy again?
Yes. But because I'm running through a life that's simple and light, I'll buy again once I'll wear this out.
Human Nature's concept store in Davao is located at
Unit No.10, Plaza del Carmen,
A. Loyola St., Bo. Obrero, Davao City
Tel. # 2952976