This is a long overdue post; blame it to my day job which fries up my brain cells every time. But today finally I have my brain and fingers working to caption these photos. These are few of the photographs I had when we went to Siquijor Island on summer. I wrote about our way on how to get to Siquijor Island on this post, you might want to check it out.
After a day at Coral Cay Resort we decided to rent a multicab to round the island. I was shopping for multicabs to take us around but the locals say that the Tourism Office in Siquijor has issued a memo that rides hired by tourists to tour them around the island ask for a flat rate, so no use shopping for cheap ones. It was P450 in the summer of 2013, I figured this will change as market is volatile. I find this measure a good control for tourists not to be taken advantage of. There are also single motorcycles you can hire around but we opted for a larger carriage since we have kids with us.
Siquijor Island is known for its stony land, it's a volcanic island hence this physical properties. As it was summer, it rained less, it dusts much and we had a generous helping of the king sun, it was extremely hot. They say only mad dogs and Englishmen go out in the midday sun, but mad dog it is, we dared with our sunnies and sarongs on.
One of our stops was Salagdoong Beach Resort in the town of Maria; it's a five kilometer ride from the highway. You have to get through this human-made forest before descending to the resort. The trees weren't as lush but I was told that during rainy season when these trees had recuperated this road is perpetually damp as sun rays can't get through the pave. I've closed my eyes and fancy a scene of a thriller er, romantic movie here. I figured, we have so much picturesque locations in this country yet we're seeing so much crap in our screens. Anyway, there's no free pass here you have to pay a toll of P5 per head before finally descending to the resort.
This resort is famous for its floating rock formations and its super fine and white sand.
They constructed a view deck on top of this stone island and standing right here gave me sweaty feet and churned my stomach to death, scared cat went touring, jeje.
If you're into deep sea, open and free diving, meaning 'ala Badjao' thing this lane is made just for you. This boy is a local and obviously a friend from this island of Sebastian and Flounder, I figured he had fun as always with Ariel, he's a 'no-splash' diver, galing!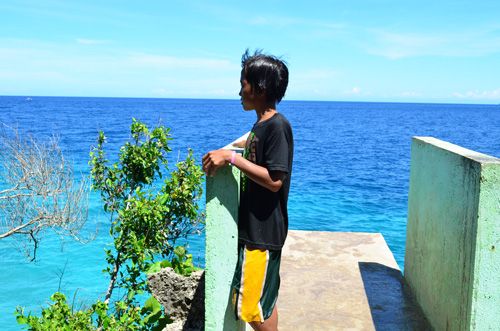 These guys in kayak made it to the blue waters laughing and singing 'Obladi Oblada' hahaha, so much fun.
The resort 'face' of this place. Sometimes people can get excited and put up structures to disrupt the natural scenery of a place thinking it'll be good for everybody and business of course, but to some it stings their eyes and thought - disavow the wonder that is
natural to a certain place.
Thank you Nivea Sun for taking care of our skin,we have fun under the summer sun.