I always have this style idea that casual dresses let's you show the exuberant side of your personality, hence, choosing or buying for one should always be about what you really want, it's because when you feel good about the way you look, it definitely shows – you feel confident, happy, carefree and there's nothing like feeling self-assured and comfortable about the dress you're wearing. Well then, if you want to experience same, I'd like to tell you one thing – Experience it with Dorothy Perkins. This European high-street fashion store let's you enjoy choosing your apt style for whatever event of your days you'll be attending to – whether it be casual dress for an afternoon coffee or tea, mix and match tees and denims for your outdoor activity, or formal floral and solids for elegant day and evening soiree, they also have gorgeous lines of bags, flat, heeled shoes and other essential women accessories - your choice of style, Dorothy Perkins have these all for you.
Their Autumn-Winter 2012 Collection is on display right now with a variety of graceful styles that are to die for, take a look;
Dorothy Perkins Nude Lace & Bow Midi | Dorothy Perkins Black and Latte Panel Dress
A dress embellished with black lace never goes out of style, they're always classy and elegant | Should be one of the staples in every woman's closet - LBD.

We recently had a shopping spree at Dorothy Perkins Abreeza Ayala Mall and take a look at what I have picked – oh, before I forget, thank you Ria of Shoppingera for helping me out, she was with me shopping and just picked for herself an awesome animal print dress – it was a perfect fit, t'was like seamed just for her.
I love this floral black|taupe dress, it's a drip-dry, easy-care casual dress you can effortlessly slip and go and I figured this will go with any color waist accessory, I wasn't able to buy a DP belt so I used my old leather floret – imagination is the only limit – so they say.
My bag pick is a cream chained-strapped satchel, I've been wishing for one – and finally it's granted. And take note, I got this for half the tag price, awesome find! I can't ask for more – Oh wait, there's no such thing as woman having plenty of bags, as each bag has a character of its own, so then, wish I could have that barrel bag, lol – That's enough for now lady, save that for next month's stimulation of economy, hehe!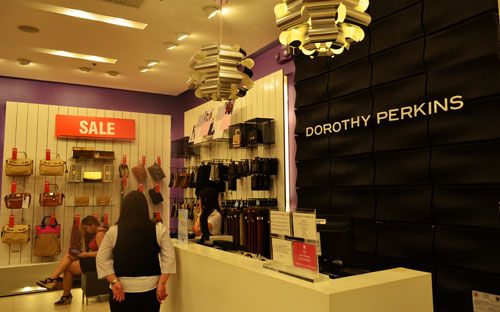 With me was Ria Jose of Shoppingera.net, we really had a stress-free shopping, thanks to the store's courteous and very accommodating lady staff. Dorothy Perkins in Davao City is conveniently located at the ground floor of Abreeza Ayala Mall.
All these could not have happened if not for the generous spirit of Abreeza Ayala Mall – thank you so much for the Bloggers Day out treat.
Abreeza Ayala Mall here in Davao City will be having a Whirlwind Pre-Christmas Sale on November 12-18, enjoy as much as 80% discount on some splendid finds mallwide. Avoid the Christmas rush and do your pre-Christmas shopping starting Monday.
Get real time updates about what's happening at Abreeza;
Follow Abreeza Mall on Twitter: https://twitter.com/abreezatweets
and like their FB page: https://www.facebook.com/AbreezaMall.
"This blogpost is part of the Whirlwind Pre-Christmas Sale of Abeeza Mall."