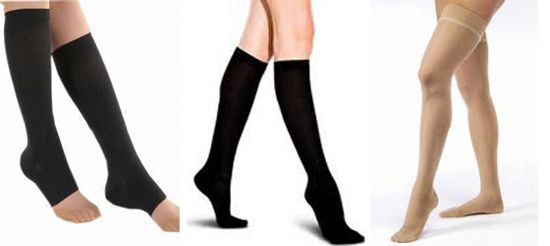 For those that suffer with certain medical conditions, compression hosiery can help increase blood flow to the legs. When blood flow is increased, the patient may notice a reduction of leg swelling. Compression stockings, like most healthcare supplies, needs to be fitted to the specific patient. To purchase compression stockings, start by determining the level of compression that is needed. If you are unsure, ask your physician for advice.
In most cases, compression hosiery comes in low to high level of compression. Avoid using stockings that have a higher compression than what is required. Next, compare the different styles and brands at several pharmacies. You may also be able to find stocking at a healthcare supply store. Familiarize yourself with the various brands. By visiting several pharmacies, you will also be able to compare prices. Once you have found the compression stocking that fits your lifestyle, find the correct size.
An Anti-Embolism sizing chart guide
Purchase compression stockings that are in your shoe size. Most compression hosiery will be easily marked with a sizing chart. If a high level of compression is needed, both your foot and leg will need to be measured. When your budget allows, purchase several pairs. On average, you will need to replace the stockings every six months. For those that have leg swelling, shop now for the latest compression stockings.